This is a playground for both children and adults, from cable-ski thrills to lounging by the lagoon. Learn a new sport, get sun-kissed, and end the day with a big smile on your face. This is also a pit-stop for runners, cyclists and skaters to take a break and watch the Park in full adrenaline swing!
SYSTEM A
(Beginner Straight Line System. With Instructor)
The Park has two straight line systems.
System A (75 meters) is dedicated to total beginners with wakeboarding lessons conducted by our devoted instructors. The System carries only one person at a time hence creating a safe learning environment where the instructor focuses only on one beginner each time. The speed of the cable is gradual, which makes learning how to stand on a wakeboard easier. It's perfect for young children and those just starting out on the wakeboard.
Participants must be 6 years old & above.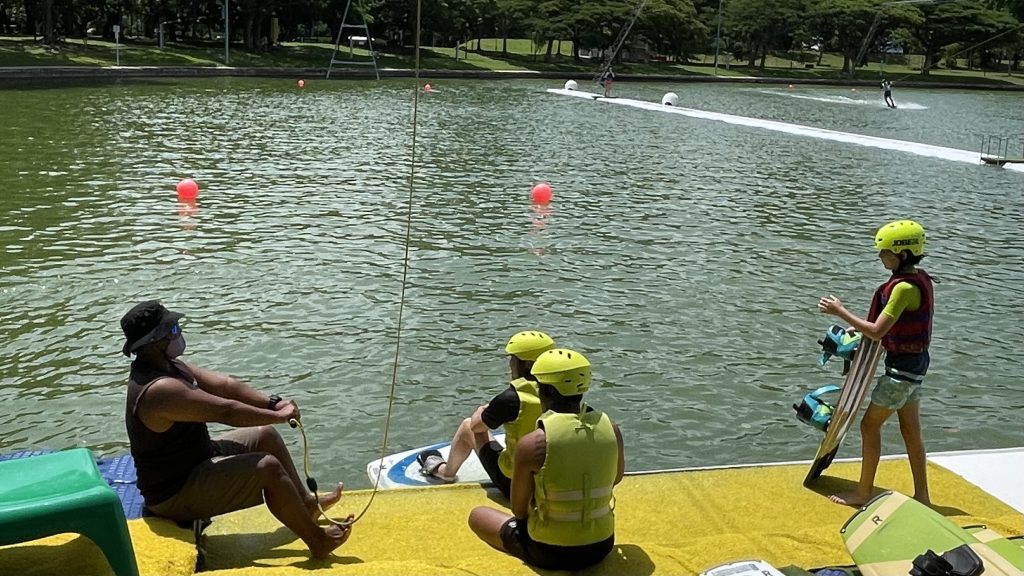 ---
SYSTEM B
(Intermediate Straight Line System with training features/obstacles. No Instructor)
System B (165 meters) caters to the intermediate riders after 'graduating' from System A. The extra length is ideal for perfecting the edging skills (maneuvering left & right) and to build the needed confidence to progress to the next level on System C.
With the introduction of 2 training features/obstacles in June 2020, System B is great for learning basic features tricks, not to mention air-raley based tricks.
Maximum capacity for both Systems: 4 pax/hr
---
SYSTEM C
(Full-size cable with training features/obstacles. NO INSTRUCTOR)
The centre of the lagoon runs on the Sesitec Full Size Cable (535 meters) system which consists of 6 towers, with a running cable carrying 6 evenly spaced carriers that pull riders with handles attached to ropes connecting to the carriers. Super-efficient and reliable, riders are assured of constant tension and smoother rides.
As the Park develops, riders can challenge their skills with fun obstacles on left and ride sides of the cable to hit for spectacular shots and hang-time.
---
TRAINING FEATURES / OBSTACLES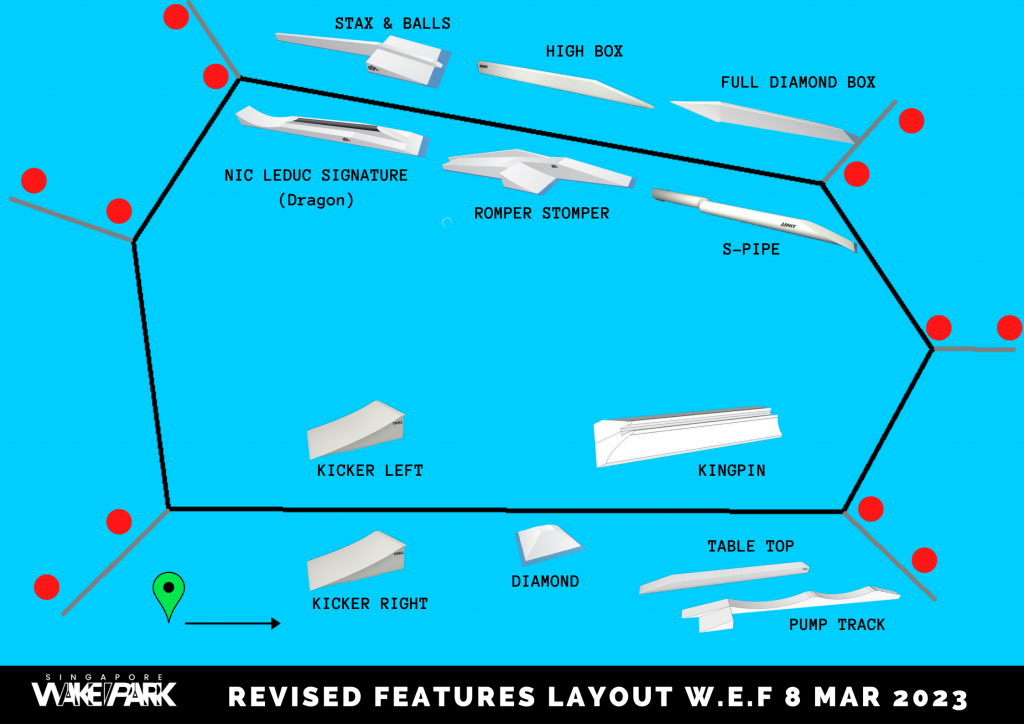 ---
DAY & NIGHT CABLE-SKIING
Powerful floodlights have been calibrated carefully to illuminate the Park even at night, which means you get to cable-ski after work. Who says there's nothing to do in Singapore at night? This is great for those who do not want to get a suntan too.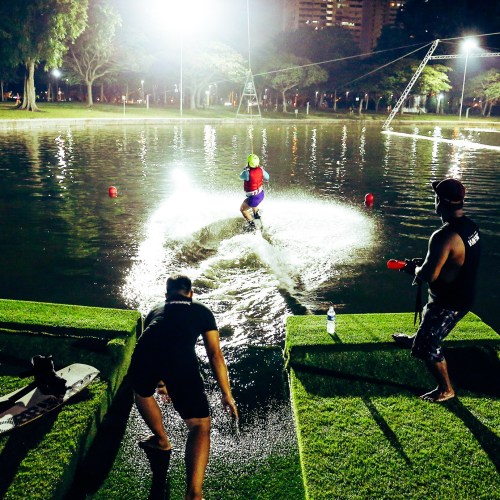 ---
SHOWERS & LOCKERS
Changing rooms, benches, shower facilities and dressing countertops offer a comfortable wash-up after a day at the Park. Locker usage is complimentary for all riders. Riders are encouraged to bring their own padlock to secure their belongings in the lockers. Alternatively, riders can purchase a lock from us at $5.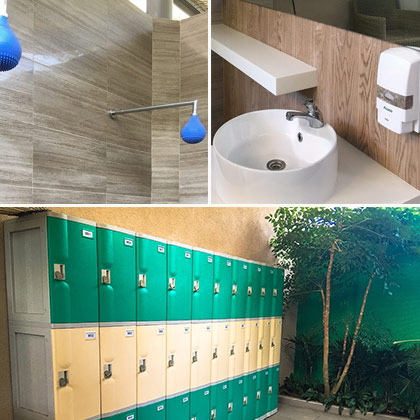 ---
BOARD STORAGE
Need a place to keep your board? We have board storage for rent! (Padlocks not included)
1 Month : $90
3 months : $225
6 months : $360
9 months : $405
12 months : $450
---
COMBINE WORK AND PLAY
Free wireless connectivity means that you can go for a ride, and get back to work while enjoying the breezy laid-back atmosphere at the Park.
---
Located just next to the lagoon, Coastal Rhythm offers the best view of the action happening on the water. The semi-alfresco dining interior offers a breezy atmosphere, serving up generous portions of local and western favorites such as fish & chips, brunch delights and more!